Insights into quality management from a conversation with… Holger Methe.
DI Holger Methe has been quality manager at ekey biometric systems since 2008. During this time, he has built up quality management in the company.
About ekey
ekey is an Austrian company headquartered in Linz and Europe's No. 1 in fingerprint access solutions. It was founded in 2002 and specialised in products for biometric building access.
With around 100 employees, ekey relies on internal know-how and is characterised by the fact that everything from research to the finished product comes from a single source. This is also reflected in the core processes: At ekey, there are two key areas: development on the one hand and ongoing production on the other.
Designing and improving processes in the company is one of Holger Methe's main tasks. We asked what projects and tasks keep the quality manager busy in his daily work and give an insight here!
Quality management at ekey – a multi-faceted field of work.
The quality management department at ekey consists of two people. Holger Methe's focus is primarily on strategic work, while his colleague Patrick Ledersberger mainly handles operational tasks.
The work as a quality manager at ekey is very multi-faceted. The topics that Holger Methe deals with on a daily basis range from process development, QM documentation, the entire test equipment management in the company to audits.
In addition to installing and maintaining the quality management system in the company, the quality managers' tasks include the following:
QM documentation: The entire QM process documentation.
Quality: Key figures, evaluations and risk assessments as well as training.
Incoming goods & outgoing goods: QM is responsible for the inspection of incoming goods and outgoing goods.
Testing equipment: Monitoring of testing equipment, organisation of calibrations and tests.
ESD coordinator: responsible for ESD (electrostatic discharge) protection measures in electronics production.
Audits: Internal and external audits at suppliers.
Testify: Digital mapping of processes with Testify – from incoming and outgoing goods inspection to documentation of recurring measurements in the ESD protection zone.
As quality manager, Holger Methe is also involved in other projects in the company. For example, he is involved in internal idea management and a current project on sustainability and corporate social responsibility.
Process landscape in the company
Quality – and therefore also the functioning of quality processes – has a high priority at ekey. This is illustrated, among other things, by a process map that provides an overview of the most important processes in the company and shows how they are interrelated.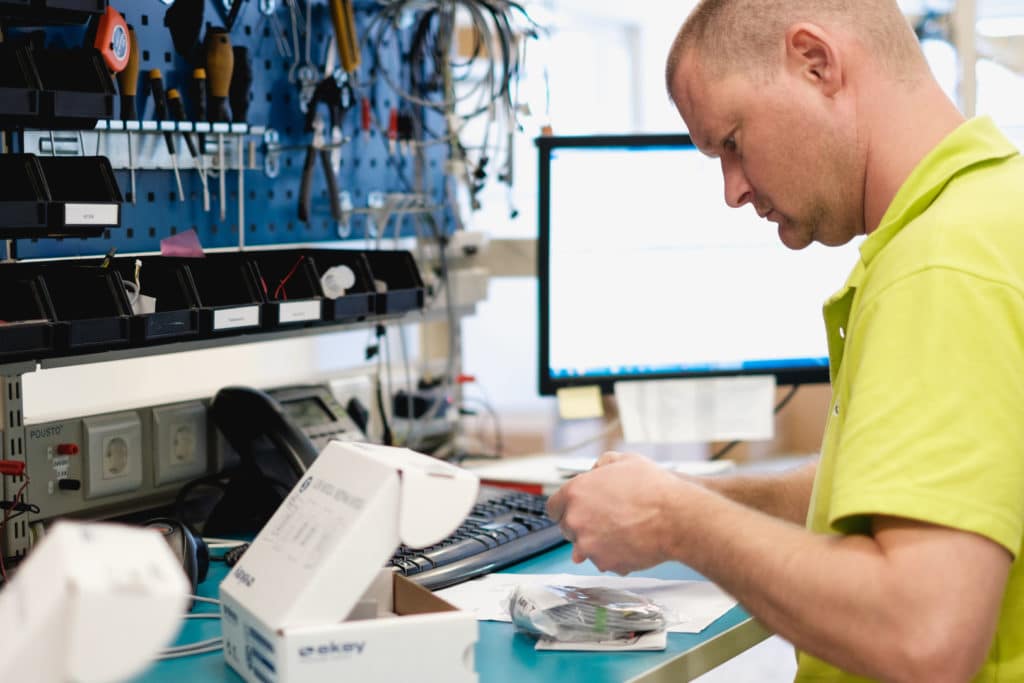 Implementation of better, digital processes!
As ekey is committed to ongoing development and continuous improvement, it decided to digitalise testing processes. This is where Testify comes into play: the tool matches this approach exactly. Testify is already being used in several areas. For incoming and outgoing goods inspections as well as for occupational safety inspections.
Digital ESD tests.
The latest area of application is documentation of recurring measurements in the ESD protection zone via Testify. These are tests that measure the conductivity of surfaces in the production environment. These must be done every six months or quarterly to ensure a safe environment for the electronic components.
So far, these have been documented in Excel. The challenge here was that different audits were carried out at different times. So it was difficult to keep an overview.
Quality management now maps these checks into Testify, where they are automatically instructed.
Test equipment management: Always up to date.
Holger Methe strives to design systems in such a way that errors cannot occur in the first place. This has also been achieved in test equipment management: here, invalid measuring equipment is prevented from being used as a preventive measure.
This was realised with the help of an interface between the test equipment database and Testify. The validity of test and measuring equipment is recorded in a database at ekey and then synchronised with Testify. As soon as a piece of test equipment may no longer be used (is no longer valid), it can no longer be selected in Testify. In this way, errors are prevented.
Digitisation of inspection instructions in incoming and outgoing goods.
Another example of process improvement is the digital checklists for exams. Here, the processes could be made less error-prone by using Testify.
Before Testify was used, all employees had to check and calculate deviations themselves using a test sheet. This resulted in an evaluation that only stated whether the product passed the test or not. However, the exact deviations were not documented.
With Testify, the testing process is digitalised: Everything is centrally managed and documented. The employees are guided step by step through the testing process. The standard values are stored in the system, so the employees enter their test values, the system compares them and shows whether the values are correct.
Also, the transfer of the test result is now no longer done manually, but automatically imported from Testify into the merchandise management system (incl. link to the test report).
Issue management: If an issue is discovered during an inspection, for example at goods receipt, it is recorded directly and forwarded to QA.
Data and reporting in quality management.
According to Holger Methe, one of the biggest advantages of digitising processes is reporting – the ability to evaluate data. In this way, quality management gains a lot of additional information: All data can be viewed centrally, is fully traceable and can be easily read out.
"The ability to analyse data in detail is a great advantage that we have gained with Testify."
For example, it can be evaluated in real time what defects there are in delivered products, what the focus of defects is and much more. This also makes it transparent whether certain targets have been met. The data from Testify is also relevant for other departments – such as supplier evaluations for purchasing.
This insight into the day-to-day projects and tasks shows that quality management at ekey makes an important contribution to overall organisational development and in the digitalisation of processes.
Are you looking for a better alternative to your paper-based processes?
Let's talk about your specific use case.
Welcome to the world
of digital checklists.

The Supply Chain Act was created to ensure that companies comply with human rights and environmental obligations in their supply chains. It aims to prevent…
Status quo of paper consumption in industrial companies. The use of paper in industrial companies is an indicator of the inefficiency of administrative processes. Despite…
In today's digitized world, paperless processes are already standard in many areas of production. Even at the shopfloor, the area of an industrial plant where…