Structured collection and analysis of your QM data. Exactly where they are created.
Act instead of react. With Testify, say goodbye to analog processes, unstructured quality data, and time-delayed evaluations of your testing processes.
It's time to transform your digital success.
Do you know the situation when…
… paper-based processes are still anchored in your company,
… Blind spots arise in the process landscape,
… Your ERP system hardly reaches the operational store floor level
… and your quality data has little significance?
We have developed a flexible modular system that helps you to solve exactly these challenges.

Are you ready to bring transparency into your processes?

Great. We are, too.
WE INTRODUCE OURSELVES
How does Testify work?
---
Testify is a mobile software solution for designing, controlling, documenting and analyzing mobile QM processes. It enables you to effectively optimize your quality processes, gain insights into previously unknown process data and sustainably improve the quality of your products.
Create.
Create processes with the Easy-to-Use Checklist Designer. Add sections and a variety of check types for individual inspection processes. This allows you to capture structured process data down to the operational store floor level.
Run.
Employees and workers use cell phones and tablets to perform mobile quality processes on the shop floor, in field service, or during plant tours.
Analyze & Improve.
Visualize captured quality data in the integrated reporting dashboards and get real-time data on active processes. Make data-based decisions.
It all starts with the right process design.
It's time to say goodbye to analog checklists, work instructions and manual data transfers. Imagine setting up and controlling your mobile inspection and quality processes digitally. This will save you valuable time and avoid information silos.
Flexible Checklist-Designer
Fully integrated into your IT-Systems
Execute processes and record structured quality data. Down to the smallest, auditable individual step.
Create intuitive checklists and work instructions you can really use. With the easy-to-use web-app, you and your employees are able to collect and evaluate data on the fly. Collaboration from the top to the store floor is now digital.
Custom Fields for a structured data collection
Lived CIP. Optimize your quality processes, over and over again.
Close the gap between your primary systems and your employees with Testify. Thanks to structured data collection, you always have KPIs in view in real time, can create management reports at the push of a button and make data-based decisions.
Power BI or other Analysis-Tools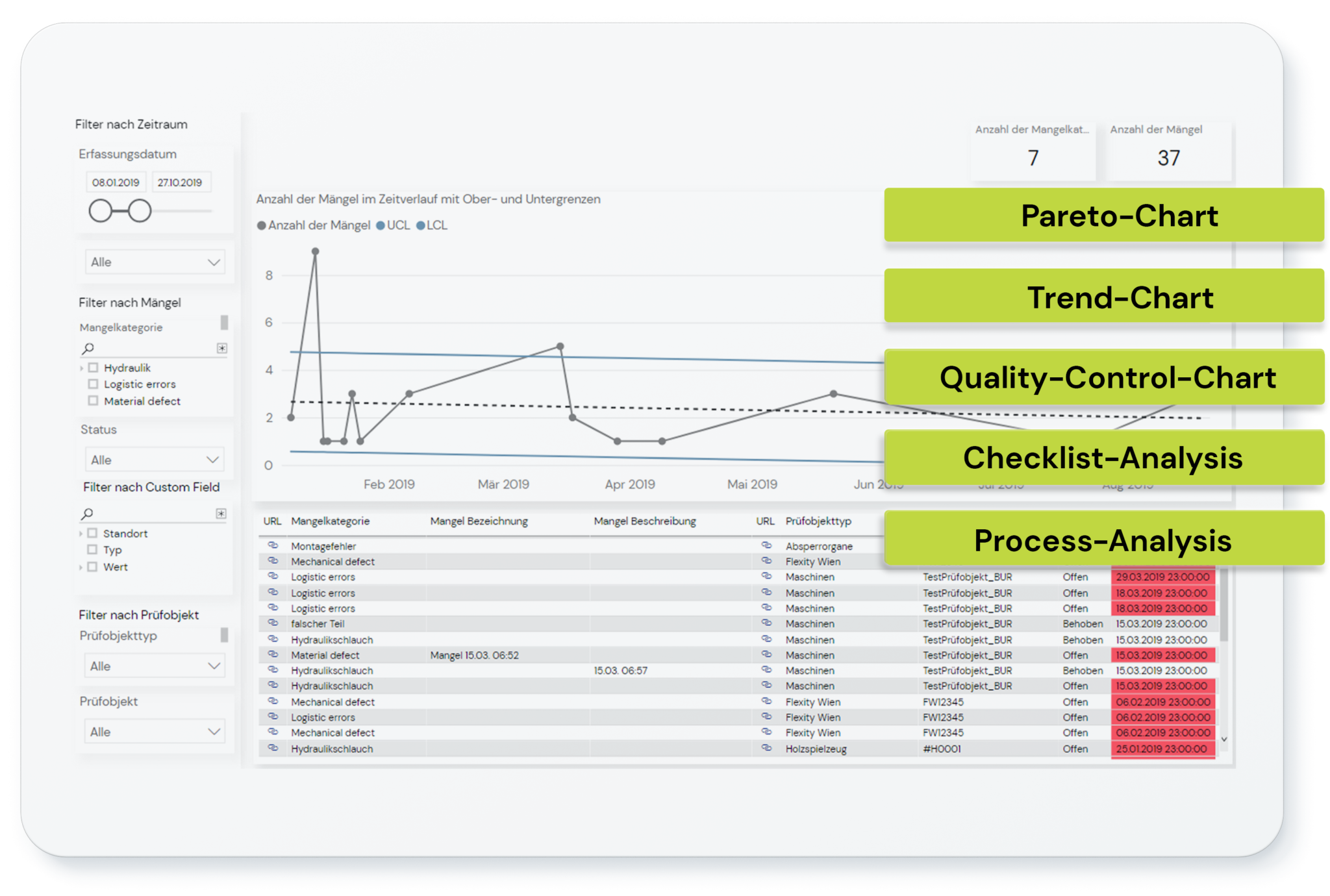 Where we used to need 3 days for quality control of our electric vehicles, we are now down to 1 day. This is a huge increase in efficiency for us.



Security and data protection are our top priorities.
---
Based on Microsoft Azure, Testify has numerous compliance standards and policies in place

Simple checklist software -
Maximum flexibility.
---
Goodbye complexity and rigid structures, hello transparency and speed.
Functions with infinite customizing possibilities.
Our software solution is user-friendly and powerful at the same time and has numerous functions for more efficiency in your processes.
Learn more about functions
Can be integrated into the existing system landscape.
Whether stand-alone or as an extension to your existing primary systems, Testify fills the missing building block in your process landscape.
Learn more about integrations
Flexible licensing model and agile implementation.
From proof of concept, we accompany you with a flexible pricing model to the digital enterprise.
Read more about the pricing model
Digitalize your quality and inspection-processes with the most
powerful checklist-software.
Book a free live-demo and get to know functionalities, use cases and much more.
---
Schedule a live-demo