Digitally track and evaluate 5S audits.
Learn how Testify can help you perform 5S audits.
Book a Live-Demo
Plan 5S audits more efficiently,
and carry out and evaluate them with Testify.
---
Benefit from the mobile checklist app with which you can record inspection data on tablet, smartphone or desktop anytime and anywhere and evaluate it at the touch of a button.
Assign and run the 5S checklist
Create a checklist once - use it again and again and the whole thing is audit-proof. The intuitive checklist designer provides you with a comprehensive tool for the flexible design of your 5S checklist.

- Via tablet, smartphone or desktop
- Offline capable
- Checks with rating system
- Descriptions incl. photo & video documentation
- Assign tasks to employees
- Audit-proof documentation according to ISO:9001
- Immediately create a defect in case of deviations
- Comment function

Plan 5S audits effectively and
ensure they are carried out.
Keep track of your next 5S audits with Testify and schedule them in one central place. With the integrated workflow feature and scheduled audits, no audit will fall by the wayside.

Scheduling of 5S checklists -
Automatic assignment to employees -
Notification by email and notifications -
Verification of 5S checklists -
Export of audit reports as PDFs after they have been carried out -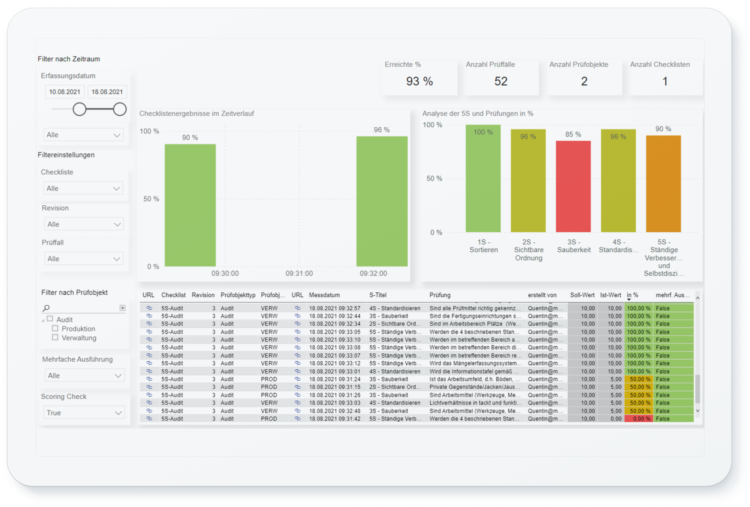 Analyses of the 5S audits at the push of a button.
The integrated 5S dashboards provide you with a clear overview of all the results of your 5S audit.

- Target and actual value comparison
- Analysis of checklist results by scoring
- Report for entire site or individual audit objects
- Comprehensive filter options
Precisely fitting functions for your next 5S audit.
---
Signature
Define whether a signature is required to complete the checklist.
Description & instructions with picture/video support
Tell your staff how to complete the audit to get the best possible result.
Issue management
Document deviations and errors directly in the checklist and provide them with a description, picture or photo.
Web App
Testify is available as a web app for any mobile device via the App Store.
Offline capability
If you do not have an active WLAN connection everywhere in the company, checklists can also be conveniently executed offline.
Scoring
Enter your individual evaluation system in your checks and award points for each answer option.
PDF reports
Create PDF inspection reports of the checklist and deficiency report at the push of a button.
No media breaks
Using Testify has changed the general way we work, we work faster and more efficiently because we have a better overview and all data can be reused elsewhere without media discontinuity!

- Read the Success Story
Your personal Live-Demo
Get to know Testify in a personal live demo. In just under 45 minutes, our product experts will guide you through the tool and work out its potential for your company.
✔ Insight into the product functions
✔ Sketching the solution design based on your focus areas
✔ Individual consulting