60% efficiency gains through digitized quality control ticket management at Plasser American.
Employees and management at Plasser American are dedicated to a common goal: deliver superior quality in the Maintenance of Way product and services market in North America.
---
Digital quality control at Plasser American.
Employees and management at Plasser American are dedicated to a common goal: deliver superior quality in the Maintenance of Way product and services market in North America. The project, starting with recording issues in the assembly area and now extends the entire value stream to the customer's site thanks to the scalable functions of the Testify solution. All in all, up to 60% of wasted time associated with addressing issues per machine has been eliminated!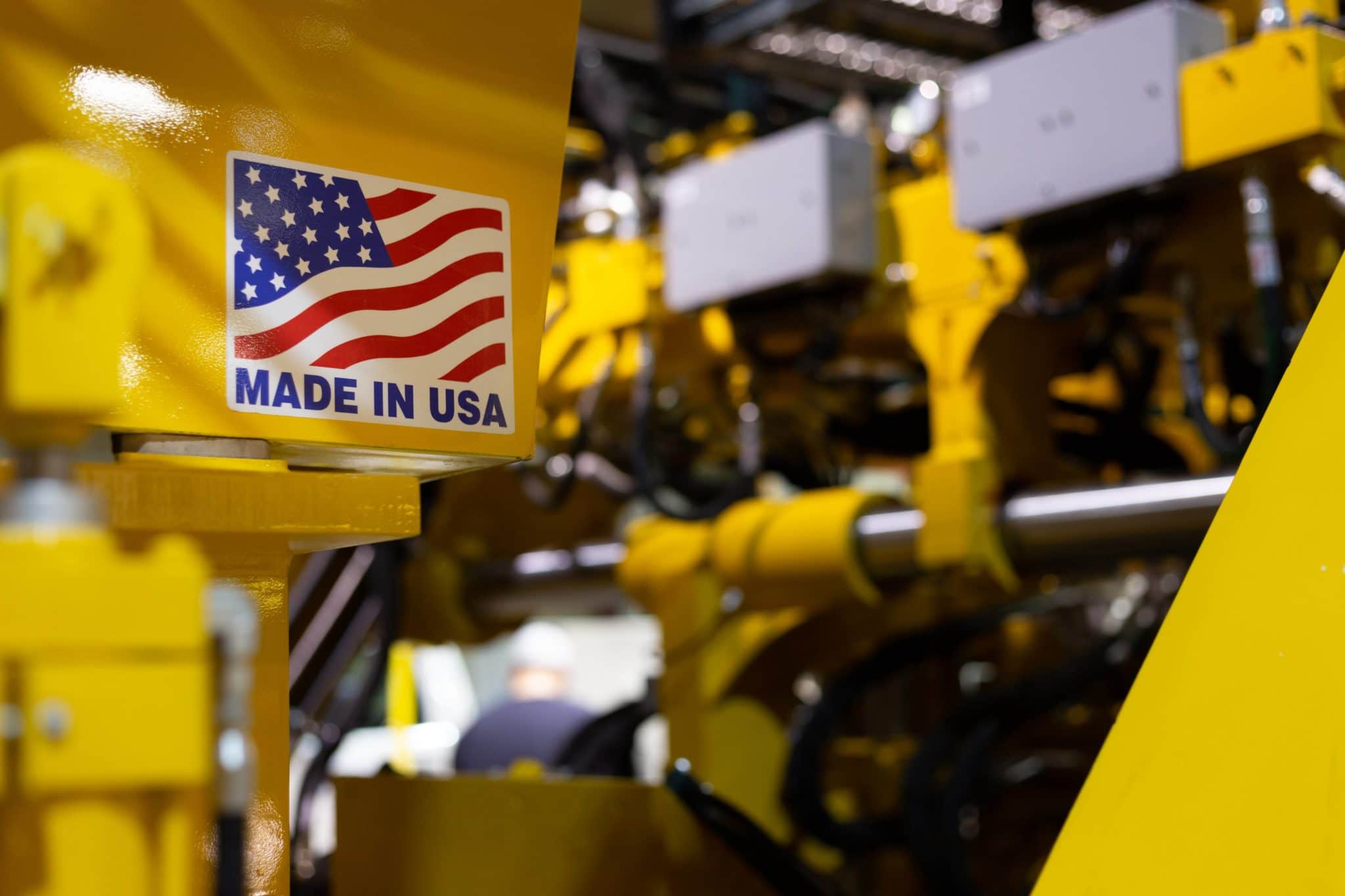 About Plasser American
Plasser American is headquartered in Chesapeake, Virginia and founded in 1961.  The company employs more than 300 people across the United States and supplies track construction and maintenance equipment as well as other railroad-specific solutions to all major railroads and transit systems in North America.
Paper-based challenges before the implementation.
---
Lack of real-time data evaluation.
Issue tracking during the production processes was collected in a resource- and time-intensive paper-based process and transferred to spreadsheets in order to subsequently obtain a detailed evaluation of the current individual issue processes.
The problem was, this was not only a time-consuming documentation process on paper, but it also the transfer of data, was no longer up-to-date at the time.
This required reports to be created several times a day in order to be able to read current situation accordingly and intervene if necessary.
Anchoring quality engagement in every employee.
With the challenge of delivering premier quality products and services, the requirement to introduce a solution for digital issue tracking along the manufacturing process was critical.
On the one hand optimizing the workflow within the scope of issue tracking and resolution, and on the other hand, anchoring quality engagement in every employee was crucial.
In a further step, digital checklists were used to document the entire production process with the ability to involve customers in the quality process. With Testify, these requirements could be resolved efficiently.
There has always been a gap between our vision of quality excellence and turning that vision into reality. Testify has bridged that gap and helped us turn production employees into quality employees.



Scalable integration
through modular design.
---
Fast rollout
within 5 weeks.
After successful commissioning of Testify at the main plant in Linz, Plasser American became aware of the software for digital tracking of issues. After a pilot phase of about 3 days, Testify was successfully rolled out in the assembly area within 5 weeks.
Stan Crockett, Director of Quality & Continuous Improvement and initiator of the project, commented: "We had a manual system for identifying and documenting issues. I found that Testify would be the enhancement we were looking for!" The software was able to be rolled out completely on its own within a few weeks.
Implementation of digital checklists throughout the entire production chain.
What started with issue management in the Assembly Area was gradually expanded to digital checklists and is now continuously used from the start of the production process to the final acceptance. The modular structure of the Testify software allowed an individual extension of the application possibilities.
It started with 5 checklists in the assembly area, the heart of the company, and has been expanded to more than 45 checklists that are also used in upstream areas.
Better service through customer integration.
Customers are involved in the quality control process via Testify to ensure that quality meets requirements even beyond the production shops.
This provides further valuable insight into machine handling and KPIs such as a variety of machine data. Thereby, customers are involved in the value chain and are also part of the vision to create outstanding quality in the machines.
With the digitization of production processes, we are able to perform in-depth analyses for the first time. This has allowed us to analyze the performance of individual areas, establish and monitor KPIs, and most importantly, ensure that customer specific requirements are met!



The result after the implementation of Testify: More efficiency, better data, outstanding product and service quality.
---
60% resource savings in issue tracking.
Thanks to digital documentation in Testify, paper-based, time-consuming recording of issues becomes unneccessary. Employees are equipped with smartphones and tablets and can immediately document issues, identify the correct test object, and quickly correct issues.
Business analytics in real time.
Instead of repeatedly collecting and evaluating process data, all data is transparently analyzed in the integrated dashboards. With the help of Pareto charts and trend charts, representative predictions can be made about production processes, which in turn serve as the basis for weekly management meetings.
More q

uality among products.
Since using the intuitive QM software, the quality of the machines has increased significantly. This is evidenced by fewer issues being identified per area and per workflow. Overall, 24% fewer issues have been recorded since Testify was implemented than before the tool was used.
Employees became quality employees.
With Testify, every employee in the production chain was given a tool to ensure quality at every step of production to prevent issues. With Testify, a workplace has been created where quality is lived and where every single employee performs meaningful work.
The outlook

:

Supplier integration.
Now that the integration of customers into the quality process has been so successful, suppliers will also be involved in the process in the future and final inspections of components will be carried out digitally with Testify.
Testify Use Cases at a glance.
---
Testify Production Support.
The first use case is issue detection during assembly processes, which is now used throughout the entire production process from goods receipt to final inspection.
Testify Quality.
With Testify, checklists were subsequently created for mapping and documenting assembly processes in order to establish standardized workflows. In the meantime, the number of checklist templates has increased to over 45.
Testify Business Process Outsourcing.
With the integration of customers, testing processes have been extended beyond company boundaries. Thus, maintenance inspections are outsourced to the customer.
Testify Risk Analysis.
Thanks to the comprehensive business analytics software, data from the production processes is clearly prepared and available as dashboards in Testify. The data provides insights into the performance of individual areas, detailed issue management key figures and how many inspections are successfully completed.
More digital success stories
from our customers.
---
The Digitalization-Success Story of RUBBLE MASTER. RM Group has used Testify to digitize the documentation that surrounds production in the factory. Using of the checklist…
Digitized quality processes and traceable testing documentation leads to real time savings. Every year there are built about 150 state-of-the-art trams for the world market…
Digitalized quality processes and traceable test documentation lead to real time savings Start at a fire protection company Under the leadership of one owner, there…