Return safely to the workplace. With the mobile covid control platform.
- Current 3G status of your employees in the company and ongoing documentation
- Fast reaction to legal and labor law changes
- DSGVO compliant control
- Fast rollout throughout the company
- Efficient processing and time saving via web platform
Download Infofolder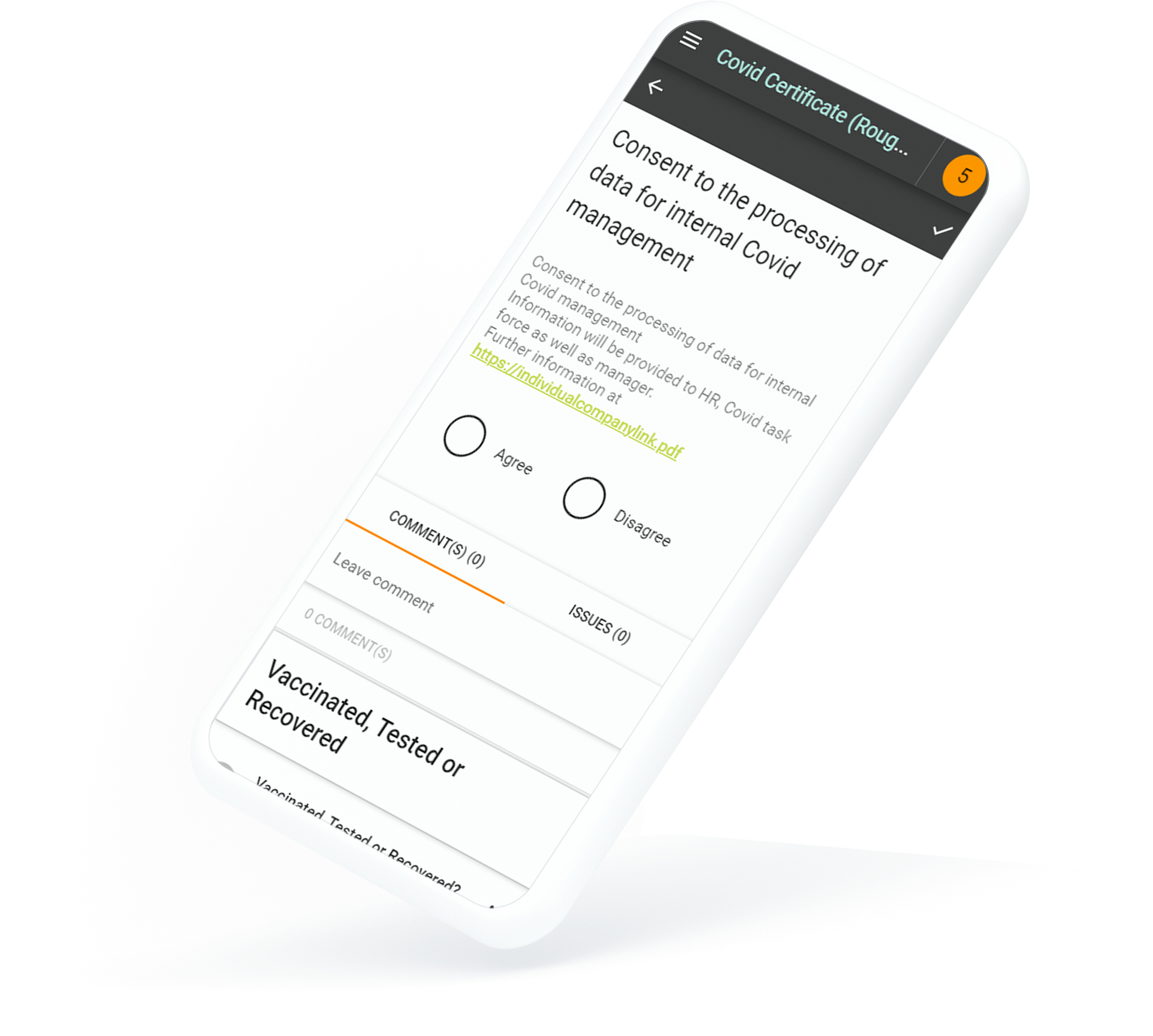 Keep operations safe, respond quickly to new legislation, and stay on track for business success.
---
We are here for you and ensure, that you have the right tool to do that.
Easily record the 3G status of your employees
via web app
Protect the health of your employees
Ensure legally compliant and DSGVO-compliant documentation
Get up-to-date evaluations of Covid evidence
Get up-to-date evaluations of health status
Safeguard your business operations
FOR EMPLOYEES
This is how the digital self-certifiaction for the workplace works.
---
The Covid Control Platform by Testify provides transmission-secure, DSGVO-compliant control of covid certificates for employees.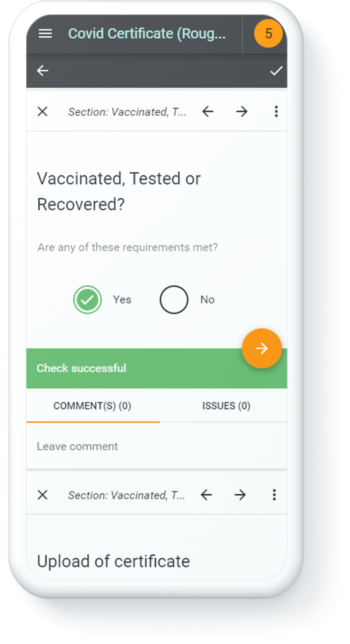 01
Open checklist for covid control via app.
Before entering the workplace, employees must run the checklist to confirm their health status.

The app can be downloaded free of charge from the Google and Apple Store and works on smartphone, tablet and desktop.

The login credentials for the checklist is sent out directly by the responsible department in the company.
02
Upload covid certificate of vaccination, testing or recovery.
Employees can choose between vaccinated, tested and recovered. For each of the three options, proof and, if applicable, validity information must be provided.

Notifications about the current status will be sent out to the manager or supervisor in order to validate the checklist.

After the upload has been completed and the validity period has been specified, the checklist is closed.

The recorded data can then be exported and stored.


For Companies
Monitor and analyze the current health status with real-time reports.
---
Just as easy as that.
Quick rollout in the company.
Here's how:
---
Meet our Sales Team

In a no-obligation initial meeting, we go through the requirements of covid control step by step and show you the tried-and-tested workflow.

Submit pseudonymous user list

For a DSGVO-compliant processing of covid controls, please send us a pseudonymized list of employees. This will be entered into Testify and set up.

Inform employees and start

The access data will be sent to the employees. Afterwards, they can start directly with the specification of the proof.
The most important functions for a smooth, safe operation of covid controls.
---
The Covid Control Platform by Testify convinces with intuitive operation and high acceptance among employees.
Custom fields for additional health information
Flexible Workflowmanagement
For a safe workplace,
where teams come together.
---
Great for every occasion, whether meetings or just controlling the health status.
Initial check of health status
Covid check before meetings with stakeholders
Access control for buildings or sensitive areas
FAQs about the covid control platform.
---
You have questions? We have the answers.
Do employees need to provide all personal information before a checklist is run?
For a DSGVO-compliant processing, it is recommended that a pseudonymized user list is transmitted to Testify. This will be entered into Testify. The data management and the sending of the access data is again the responsibility of the company itself.
Do employees need to have all their details provided before the data goes to Testify, or can you also provide employee data on health status as you go, and then you update the dashboard regularly?
The data can be gradually entered into our system. The dashboards are updated regularly about 1x hourly.
Do employees have a presentable confirmation of health status on their phone or is the status only displayed centrally on the dashboard?
PDF logs can be generated from the performed checklists, which can be used as confirmation in the company.
Does the employer see the names of employees who have a covid certificate?
The data of the employees can be anonymized, or the consent of the employees can be obtained in advance. The workflow can be implemented specifically according to your DSGVO requirements.
Can you tell me if your Covid control platform has the ability to encode the verification data for the employer so that they can only see if a daily verification was provided or not - and not how the verification was provided (vaccinated, recovered, tested)?
It is of course possible to design the query in our system in such a way that the employee is asked whether covid certificate has been provided. This would mean that no photo proof is required (otherwise it would be immediately apparent whether the employee has been vaccinated, recovered, or tested) and that the employee relies on his or her own responsibility.
Would it also be possible for a proof to be uploaded as a document and only accessed via a separate access authorization?
With our flexible role settings, the rights can of course be distributed so that only certain users can view the checklists.
We manage your data
reliably and securely.
Microsoft Azure is an industry-leading cloud platform provider and takes a variety of approaches to security and protecting your data. Testify is hosted on data centers in Northern Europe and Western Europe. This way, your data is protected by EU regulations such as the GDPR.
Do you have questions about the Covid Control Platform by Testfiy?
We are here for you.
Manuel Forstinger
Sales Manager
manuel.forstinger@testify.io
+43 660 7821366
Fair packages for a quick start.
Recurring packages according to number of employees (MA) on request:
up to 250 MA
up to 500 MA
up to 750 MA
< 1000 MA
Standard
- Setup Tenant
- Import User
- Covid certificate control checklists Instantiation
- Hosting
- Reporting Dashboards
- Support

Optional:
Key user training
Branded
Setup Tenant
Import User
Covid certificate Control Checklists Instantiation
hosting
Reporting Dashboards
support

Optional:
Key user training

Branded:
- Background image for login mask
- Own domain
Discover more digitization opportunities
with Testify.
---
Testify is the most flexible checklist software developed for the digitalization of mobile testing processes. It enables you to centrally control quality processes, make quality measurable and optimize the efficiency of operational processes.
World market leaders have been able to sustainably increase efficiency and achieve reliable quality improvements with Testify.
---